VAN ZYL LEADS NEDBANK RUNNING CLUB ONSLAUGHT FOR TOP TITLES
The Nedbank Running Club's (NRC) Green Dream Team demolished a strong local and international field at two of the country's biggest and most competitive road running races, the Sanlam Cape Town Marathon and the FNB Joburg 10K CITYRUN. No less than ten podium positions across all age categories were achieved at both races, while it was especially the NRC women who made a clean sweep, taking all three podium positions at the Joburg 10K.
SA speedster Irvette van Zyl's led the Dream Team's way with her phenomenal performance at both the Cape Town Marathon on Sunday morning and the FNB Joburg 10K CITYRUN the very next day. Van Zyl produced a sublime effort in the women's race at the Cape Town Marathon's 10km Peace Run, clocking 32:48 for the win – her second fastest time - and setting a new course record. What makes Van Zyl's performance even more outstanding is that she has just come back after giving birth to her second son a mere three months ago. Her team mate and Zimbabwean Rutendo Nyahora was second in a time of 33:54 while Veteran Bulelwa Simae not only placed first in her age category but also 7th overall in a time of 37:46.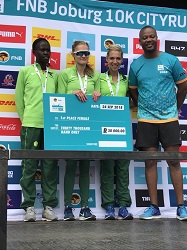 Van Zyl flew back to Johannesburg the same day to line up a mere 24 hours later at the FNB Joburg 10K CITYRUN held on Heritage Day where she broke the tape in 33:52, smashing another course record. This was her first appearance at the race and she meant business from the gun. The first kilometre was covered in 3:06. Three kilometres went by in 9:28 while 5km was covered in 16:28 as she started to hit the climbs. By then she was running on her own in the women's race, with team mate Susy Chebet and defending champion Glenrose Xaba a good way off the pace. 2018 Comrades Marathon runner up, Gerda Steyn was having an impressive race and was closing down on the tiring Xaba whom she passed in the final 3km.
There was no stopping the flying Van Zyl who clocked the last 2km in 3:11 and 3:08 on the descent to the finish at Mary Fitzgerald Square. Van Zyl smashed through the finish ribbon in an incredible 33:51. A massive 1 minute and 40 seconds inside the previous course record of 35:34 set in 2016.
Chebet was second across the line, clocking 34:30 while Steyn came storming through to the finish in an impressive
35:01. What makes Steyn's performance just as remarkable is that she is currently in serious long distance training for the New York City Marathon in November, where she will be lining up amongst the world's elite women. Mamorallo Tjoka's 5th position meant the NRC ladies took 5 out of the Top Ten positions. Remarkable running all around.
"I must be fitter than I thought," said van Zyl after the race. "To run two really good times back to back like this, means that I am reaching another level in my running. I had no idea where the other ladies were so I just kept on pushing. But I had no idea I was on record pace, so that is a pleasant surprise."
In the men's race at the FNB Joburg 10K NRC's Lesotho runner Namakoe Nkhasi claimed 3rd position in a time of 29:40. Another three top ten positions belonged to the NRC with Lebenya Nkoka finishing 8th (30:34), Edward Mothibi 9th (30:50) and Joel Mmone 10th (30:58).
At the Cape Town Marathon the NRC ladies made their mark with Urge Sokoka Diro finishing third in a new PB of 2:30:30. Teammates Neheng Khatala - who hails from Lesotho - claimed 7th position in a PB of 2:33:40 and new Lesotho record, while Ethiopian Almaz Fekade finished 9th in 2:35:42. Former Comrades Champ Charné Bosman won the Veterans category in 2:44:51, mentioning later that she has not run that time in years.
More top ten positions came in the men's marathon with Negash Duki Abebe claiming 8th position (2:13:19) and Munyaradzi Jari 9th position (2:14:01). Another excellent performance came from Veteran runner Mthandazo Qhina, who - two days before his 41st birthday - smashed the almost 38-year-old Western Province age category record of Brian Mather (2:21:37) with his 2:20:31. It is the eighth fastest time ever by a South African veteran on a record-eligible course and the fastest since Hendrick Ramaala ran the SA record of 2:17:12 in the same race in 2015.
RESULTS
 
FNB JOBURG 10K CITYRUN
MEN
Open
3. Namakoe Nkhasi (NRC/LES) 29:40
8. Lebenya Nkoka (NRC/LES) 30:34
9. Edward Mothibi (NRC) 30:50
10. Joel Mmone (NRC) 30:58
WOMEN
Open
1. Irvette van Zyl (NRC) 33:52
2. Susy Chebet (NRC/KEN) 34:30
3. Gerda Steyn (NRC) 35:02
5. Mamorallo Tjoka (NRC) 35:39
SANLAM CAPE TOWN MARATHON & 10KM
Marathon
MEN
Open
8. Negash Duki Abebe (NRC/ETH) 2:13:40
9. Munyaradzi Jari (NRC/ZIM) 2:14:01
Veterans
1. Mthandazo Qhina (NRC) 2:20:31
WOMEN
Open
3. Urge Sokoka Diro (NRC/ETH) 2:30:30
7. Neheng Khatala (NRC/LES) 2:33:40
9. Almaz Fekade (NRC/ETH) 2:35:42
Veterans
1. Charne Bosman (NRC) 2:44:51
10KM
MEN
Open
4. Mothimokholo Hatasi (NRC/LES) 29:53
WOMEN
Open
1. Irvette van Zyl (NRC) 32:48
2. Rutendo Nyahoro (NRC/ZIM) 33:54
7. Bulelwa Simae (NRC) 37:46 (1st Veteran)
Nedbank Running Club members enjoying the Hospitality area at the Cape Town Marathon