Nedbank Running Club Name Patch
Iron on Instructions for the Nedbank RC Provincial name patch (VIDEO)
Click on the Image to the right for the Video
Separate clear tape and plastic backing
print should be facing up

print should be sticking onto the clear tape
Place the clear tape onto the running vest over the Nedbank Running Club logo

Place a white cotton fabric onto the running vest.

Using a hot iron gently iron the print for 25-30 seconds using a hot iron.
After the running vest has cooled down gently peel the clear plastic from the print and the running vest with only the print remaining behind.
National Personalities and Stories
FROM STRENGTH TO STRENGTH
South Africa's 4th place finisher at the 2017 Comrades Marathon and Nedbank Running Club athlete Gerda Steyn did it again! She smashed another PB and claimed victory at a 10km race in Abu Dhabi.
Steyn crossed the line in a superb time of 35:36, and that on a course that was inaccurate and roughly 400m too long.
Nevertheless, what made the victory even sweeter was that Gerda's older sister Estie, finished in 3rd position, which meant it was the first time the sisters shared a podium together.
Gerda's PB comes shortly after she bettered her marathon PB late last year at the Valencia Marathon in Spain where she took 14 minutes off her previous best to finish in 12th position in a time of 2:37:19. Gerda is now ranked 3rd on the 2017 SA Marathon rankings.
Great day out
The race was held on the quiet roads of Zayed Sport City in Abu Dhabi and organized by the Abu Dhabi Striders. "It was my first time running this race. The 10km course was flat and fast and I was very pleased to cross the finish line with a new PB of 35:36. Abu Dhabi's running community is vibrant and what makes it special for me is that you will always find a large group of South Africans signing up for races and cheering on the 'Nedbank girl'," says Gerda.
She plans to take on another 10km race this coming weekend and better her time. "The course was inaccurate which meant adding around 1 minute to my time, so fingers crossed for this coming weekend!"
Training
Gerda's main focus is the Comrades Marathon in June and she will return to South Africa in February to fully concentrate on the race. "For the past two months I have been keeping mileage down as I have learnt a hard lesson last year starting the year on a very low note. I have been enjoying cycling and doing all sorts of cross training since November. I decided this year not to plan ahead too far in advance and just continue to do what works for me and my body. I will be based in Johannesburg from February until June and am planning to do some local races in training towards Comrades. I am very excited to get more involved with the running community in Gauteng and am hoping to meet new running and cycling partners in the coming months."
Comrades favourite
Gerda is seen as one of the favourites to line up at the 2018 Comrades Marathon. The women's race promises to be an exhilarating event this year with some of the most competitive women on the starting line.
Bruce Fordyce, the King of Comrades himself, has recently listed Gerda as one of the women's favourites. Her Comrades runs so far (56th, 14th, 4th) reminds him of his own very similar ladder of progress back in the 70s and early 80s. "I always pay special attention to those runners who improve steadily each year regardless of the direction in which the Comrades is run."
AGE-DEFYING TALENT
We all know that running can be tough at any age, and even more so as you age and naturally slow down. But then there are some exceptional runners who still manage to run some age-defying times, which many runners half their age could only dream of.
One such exceptional runner is Annatjie Botes, a 60-year-old mom of three from George and member of the Nedbank Running Club. Annatjie recently clocked a blistering 41:03 over the 10km distance when she won the women's race at the Correctional Services 10km Nite Race in George. A couple of days earlier – and only six days after turning 60 – Annatjie won her category in the Somerson Half Marathon in Mossel Bay in a time of 1:36:57. Not bad for someone who only started running at the age of 46.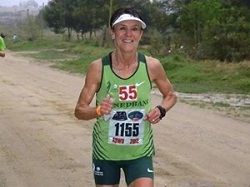 A late bloomer
Annatjie, a part time gym instructor, always loved sport and ran short distances at school, but she never though she could run far. She didn't partake in much sport as a young working woman, and only after having children she jogged a bit during holidays, though nothing too intense.
It was only in 2003 at the age of 46 that she started running consistently. "My daughter came home one day and said she was going to run a 10km race with a friend. I didn't think she was going to make it, but she did! And so I decided to start running with her. She was in Grade 11 and later could not fit it all in, so she stopped running. But I continued," says Annatjie.
Just as well, because Annatjie has since claimed numerous victories in her age category, with her greatest victories being first female Master at the Two Oceans Marathon and 3rd female Master at the Comrades Marathon.
Comrades Marathon
The "racing bug" bit when she decided to join a club. And as it goes in South African running circles, Annatjie slowly started contemplating running the Comrades Marathon. "Eventually in 2007 I decided to enter Two Oceans and Comrades. I finished both in relatively good times for a Veteran. The year after I turned 50 it was easier to place in my age category, but then my watch became my greatest competition!"
Annatjie, who has run 3 Comrades Marathons, has placed 3rd female Master at two of them. She has also run 11 Two Oceans Ultra's as well as one half marathon. She finished 10 of the Ultra's amongst the Top 5 Master Ladies. Her time for all of them was between 4:30 and 4:55. "It was great receiving my permanent number at Oceans in 2016."
On top of this Annatjie also excelled at the SA Champs, achieving a gold medal over the marathon distance, silver at the 21.1km distance and bronze in the 10km event. Some other highlights include a win in the Masters Category at the Cape Town Marathon in 2016 and a 2nd place last year.
Training
Annatjie follows a traditional long distance training program, with a weekly speed, hill and time trial session as well as a long run of about 30km. "When I train for longer distance events I try to run around 100km a week. I find it very hard to do more than that these days as my age is definitely starting to play a role," says Annatjie.
Trail running
Annatjie has also fallen in love with trail running and has tackled the multi-stage Dryland Traverse and AfricanX Trailruns. Both Dryland and AfricanX cover around 80km over respectively 4 and 3 days. "My teammate and I won the Mixed Veteran Category of the AfricanX twice."
And just to add a bit of variety into the mix, Annatjie also loves track. She is a member of the Masters Athletics Association and has earned South Western Districts as well as SA colours in the 55-59 Age Category over the 800m/1500m/5000m distances.
Longevity
She has no secret to longevity. "It's just a lot of grace, I eat relatively healthy and I really enjoy exercising. Running is my medicine. I am blessed with good health en would like to keep it that way through running. Being outside in nature is part of what makes running so enjoyable," says Annatjie.
She does not really have a favourite distance. "A 10km race is over quickly, a half marathon is nice, and the longer runs are also nice, especially as I find I do better over longer distances. To finish a race is one of the most satisfying things, it must be the so called Runners High!"
Annatjie loves being part of the Nedbank Running Club in George. "We have weekly time trials, training sessions, camaraderie and we encourage each other. NRC also has some great incentives which is very encouraging."
Advice
Any advice for those wanting to run? "Just start, don't think it is easy and remember anything that is worth doing, is worth doing well! You don't have to be fast, just do your best, start slowly, walk when you are tried and jog when you feel better. Just keep going. Start with shorter distances and gradually increase. Also, try to find a running buddy," says Annatjie.
For those 'older' runners out there Annatjie advises to just compete against yourself at first. "One would still like to do the same, but your body does not always allow you to. As you get older, it takes longer to recover, so I really try to listen to my body. Times are bound to get slower even though it feels as if you are running the same as before, the most important thing is to adjust to it all."
Highlights
There are so many highlights, basically every race she completes feels like a highlight, says Annatjie, but here are a few that really stand out:
•    "My first Comrades in 2007 just because I made it!
•    My second Comrades when Nick Bester (NRC National Manager) phoned toe let me know I have to attend a breakfast for all the prize winners as I finished 3rd Master lady at the 2008 Comrades Marathon.
•    My 10th Two Oceans in 2016, especially when Grace De Oliveira handed me my blue number.
•    My first SA marathon in 2008 when I won my age category.
•    When I received SA Colours for track in 2015.
•    When we placed first in the Mixed Veterans Team Category at the AfricanX in 2014.
Goals
Her all time greatest goal is to keep on running for as long as she can, and if she can't run anymore she would like to keep on walking.
Short term Annatjie is looking at racing the Two Oceans Ultra at the end of March as well as some of the Spar Women's races. Long term she would love to compete at a Masters World Champs Meet. "Only time and finances will tell whether I will get there."
Support
Her family members are her greatest supporters, "My daughters also run a bit, though they are still in their baby shoes with regards to running. Everyone supports me, and my husband usually follows my race progress via the Internet, so he usually knows my finishing position before I do!"
As most runners Annatjie gets quite fidgety when she can't run for a day or two. "One or two days without running is manageable, but more than that and I start feeling irritated, depressed, moody, uncomfortable…and so the list goes on!"
Old Mutual Om die Dam
Substitution Window Closing Soon!
If you have an entry for the 28th edition of the Old Mutual Om die Dam, but have decided that you won't be running this year, or if you want to take over the entry of a withdrawing runner, then you have less than a week left to do a substitute entry! Click on the link below to find out more!
The Countdown to #OMTOM2018 has started!
Substitution Entries Are Open
The Substitution Entry window is currently open (and will be until 5pm on 28 February 2018). If you missed out on an OMTOM Ultra Marathon or Trail Run entry, or weren't selected in the Half Marathon ballot, this is the only official way to take over a withdrawing runner's entry.
To streamline the process and eliminate fraudulant activity, all monetary transactions will be faciliated via Webtickets, the OMTOM's official payment partner.
2018 Comrades Marathon Route Changes and Official Distance
The official distance of the 2018 Comrades Marathon as well as changes to the route have been confirmed by the Comrades Marathon Association (CMA). CMA Race Director, Rowyn James says, "The officially measured and certified distance for this year's Down Run is 90,184km."
The 2018 Comrades Down Run will be slightly longer than the previous Down Run route. The 2016 route was 89,208km."
James has advised that some changes will be effected from the Start at the Pietermaritzburg City Hall. He says, "On race day, our runners will start their epic Down Run journey at the City Hall, running down Chief Albert Luthuli Street, heading east. From there they will continue along Alan Paton Avenue and then contraflow onto the N3 national freeway. From there, they will glide off right onto the Market Road on ramp and then left onto the slip road to CB Downes Road and then follow the traditional Comrades route towards Polly Shortts and onwards to Durban."
James continues, "Regarding the route into Durban, athletes will follow the N3 under the Tollgate Bridge and then take the new fly-over into David Webster Street which becomes Bram Fischer Road. From there, our runners will turn left into Samora Machel Road which then becomes Masabalala Yengwa Avenue."
James concludes, "Runners will then run contraflow in Masabalala Yengwa Avenue and cross to the north bound lane at Battery Beach Road. They will then take the pathway to the left between the bollards, pass the Virgin Active Gym and turn left into the tunnel before Nino's and onto the field to the Finish Line at the Moses Mabhida Stadium."
As per the Safety at Sports and Recreational Events Act 2010, James has also confirmed that the new finish at Moses Mabhida Stadium aligns with the requirements of the Events Act which necessitated the move to this iconic Durban landmark."
James has thanked the eThekwini Metro Police and Msunduzi Traffic Police for providing escorts to ensure the safety of the route course measurer, saying, "We are working closely with all traffic and law enforcement officials to ensure the safety and integrity of the event."
James adds, "Working with the officials at the Moses Mabhida Stadium has been a pleasure. We look forward to ensuring a great race day for both our runners and spectators on Sunday, 10 June 2018."
For more detailed information and maps of the changes to the start and finish of the route, please visit the Comrades Marathon website: www.comrades.com
Pirates 21km
A WEEK OF SUPERB RACING ALL ROUND
It's been a week of superb racing all round by athletes of the Nedbank Running Club (NRC). There were podium positions at races countrywide, with some podiums being completely taken over by the Green Dream Team.
The PWC George Claassen race in Pretoria was one such race dominated by athletes from the NRC. Shortly after winning the Dis-Chem Half Marathon in Bedfordview Irvette van Zyl won the 10km event at the PWC race. She blitzed to a 34:42 finish, and that at 4 months pregnant. The men's half marathon race was won by teammates Sibusiso Nzima (65:49) and Zimbabwean Rutendo Nyahora (81:50). Comrades champion Charné Bosman finished 2nd lady overall and first Veteran in a time of 82:11.
Another mention goes to Obertina Kanyongo who finished 2nd female overall and 1st Master lady (65:36) at the Beachomber 15km in Cape Town. This comes barely a week after she finished first Master (2:19:33) at the tough NutriBullet Bay to Bay 30km in Camps Bay. Her teammate Fortunate Chidzivo won the women's race in a time of 2:00:10 while Vuyiseka Knumenge won the women's 15km event in a time of 61:21.
Veteran Mthandazo Qhina performed at three races, crossing the line first (50:15) at the midweek Dan Luyt 15 km in Durbanville. Qhina had also run the challenging Bay to Bay 30 km the previous Sunday, finishing 2nd overall and 1st Veteran in a time of 1:41:42, and this past weekend he competed in the Beachcomber 15 km (52:10), finishing 1st Veteran. His teammate Nomvuyisi Seti flew the women's flag high at the Dan Luyt 15km, when she ran to victory and retained her title in a time of 63:41.
Internationally SA's Gerda Steyn flew the Nedbank and South African flags high with a stunning performance at a 10km race in Abu Dhabi. Steyn blitzed to a 10km PB to the cross the finish line in a time of 35:36, and that on a course that was roughly 400m too long!
Last but certainly not least came some stunning performances from NRC athletes – including some development runners – at the past weekend's SA Cross-Country Trials. Thabang Mosiako won the Senior Men's 10km race in a fast time of 29:49 while development runner Kutlwisiso Sidinile blitzed to a 25:19 7th place in the Junior Men's 8km event.
VAN ZYL AND MANJA TAKE TOP HONOURS AT DIS-CHEM
The Nedbank Running Club's (NRC) Irvette van Zyl and David Manja both blitzed to victory at this morning's Dis-Chem Half Marathon in Bedfordview, Gauteng. Van Zyl had a remarkable run, especially seeing that she is pregnant with her second child, while Manja achieved exactly what her set his sights on: a win and nothing less.
Van Zyl and Manja were in good company with teammates Rudo Mhonderwa and Patience Murowe taking second and third positions in the ladies senior category whilst Phillimon Mathiba took second position in the men's senior category.
Women's race
It seems Van Zyl ran a great tactical race from start to finish. Knowing her limitations being pregnant, and knowing the course, came in very handy. "I know the route very well and know that it is not easy, there are a lot of hills to deal with. Some of the girls started very fast, but I chose to hold back a bit. I was 3rd for most of the way and only caught the two leading girls around the 10km and 15km mark. After that I managed to finish strong," says Van Zyl.
The Olympic marathoner, who holds a 70-minute PB over the half marathon distance, says she is very happy with her performance, especially in the light of her being pregnant. With her first pregnancy she did not manage to run under 81 minutes for a half marathon, but today she managed a 78:44, which almost feels like a PB, jokes Van Zyl.
Since falling pregnant she has good and 'bad' running days and she is not always sure how a day is going to turn out. "But today was a good day! I didn't feel that great yesterday so I was a little worried, and even while warming up this morning I was worried, but surprisingly during the race I felt absolutely fine and managed to finish strong. "
Her Olympic hurdler husband LJ was super proud of his wife's performance this morning. "He is always proud of me as he knows sometime it is an effort just to get out the door when running pregnant." Their firstborn Louis got his mom's medal this morning, but Van Zyl says he wasn't that chuffed with mom's effort as he probably wanted another present!
Van Zyl, who late last year became the first South African female since 2009 to win the Soweto Marathon, will be in action at the Johnson Crane Half Marathon and the Spar Ladies race in March before tackling the mighty Two Oceans Half Marathon end of March. "I will be much further pregnant then and realise I can't hope for a top position, but I would like to try for top ten," says Van Zyl.
Men's Race
The men's race panned out exactly the way NRC's David Manja and Phillimon Mathiba hoped for. Manja crossed the line in a speedy 1:08:44 whilst Mathiba blitzed through in 1:08:53.
Both men have been training very hard and specifically for this morning's race. "Both of them did a long run and a speed work session on Christmas Day as well as New Year's day. They worked very hard and wanted this morning's win," says Pio Mpolokeng, their coach and NRC's development coach in Klerksdorp. "They were ready and well prepared, and that's why they ended up with a great result this morning."
Manja, who won the Soweto Half Marathon late last year, as well as Mathiba, who placed third at Soweto, were in the leading pack from the start. They set their sights on Lucky Mohale, last year's winner, and made sure they did not let him out of their sight. "We decided last night that they should not let Lucky out their sight. He has won this race three times. Lucky started falling off the pack around the 7km mark and that's when David and Phillimon started taking the lead," says Mpolokeng. Mohale eventually finished in 4th position in a time of 1:12:56.
Both Mathiba and Manja will both now have some easier days before heading off to Bloemfontein next week for the cross-country African Championship trials. A team will be selected to represent South Africa in Mauritius and Algeria in March.
They are also waiting to hear whether their performances this morning were good enough for selection to the Half Marathon World Champs in March. "The president of Central Gauteng Athletics was there this morning and saw my boys perform. I am hoping to hear from the soon. But for now I am a very happy coach."