See Vest example below with added patch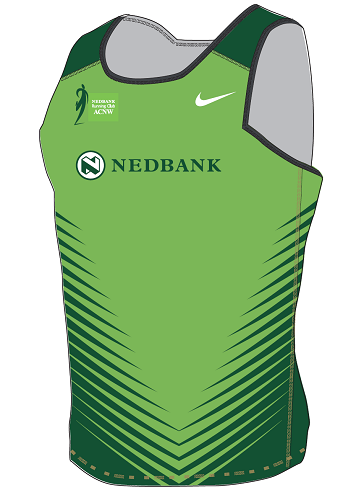 2018 Season!
ASA implemented a host of new rules that will be enforced in 2018.
NB-RULE 24:12:5  
24.12.5 Clubs with the same province, city, town name, must add a suitable differentiator before or after the name e.g. Benoni Harriers; Benoni Striders; Benoni Central, etc. Note: Where there is doubt if the name of the club is eligible, the club must contact ASA, via the province, in writing to obtain clarity.
Clubs with branches in different provinces eg Eskom, RW4L, Nedbank, SANDF etc. , when using a standardized kit design, should use appropriate cloth patches to highlight the different provincial membership. Eg Eskom WP, EC, FS etc
We will provide each Club with the necessary iron on patches that will need to be distributed to the members.
We will also send you the correct procedure for how to go about to iron this onto your vest.
National Personalities and Stories
VALENCIA, WATCH OUT, SA'S SUPERSTAR IS ON HER WAY!
She's been consistent, dedicated and trained in one of the most beautiful - but tough - places in the world. Now South Africa's 4th place Comrades Marathon finisher Gerda Steyn is hoping to reap the rewards when she tackles the beautiful Valencia Marathon in Spain on Sunday.
The Valencia marathon, which was awarded IAAF Gold Label Road Race Status in 2016, is often referred to as the fastest marathon on Spanish ground. More than 19 000 runners are expected to line up at the 39th edition of the race on Sunday. Run alongside the Mediterranean coastline, a few meters from the sea, the Valencia Marathon takes place in areas of the city where events such as the Formula 1 Grand Prix and the Americas Cup were hosted.
Gerda chose the Valencia marathon as it fitted in perfectly with her racing season. "It looks like an incredible event with lots of interesting sights to keep your mind busy. A friend of mine lives nearby and recommended this. Also, the marathon is known for great crowd support. The route layout makes it possible for supporters to see you at numerous points. It is also a potential fast course with no hills, cool weather and a spectacular finish," says Gerda, who will be running alongside fellow South African Nolene Conrad. "Hopefully we will fly the South African flag high on Sunday!"
As a member of the Nedbank Running Club's (NRC) Green Dream Team, Gerda last week won an award from the NRC for the Most Improved Athlete of the year. This has made her even more determined to perform at her best on Sunday. She's not saying too much about a predicted finishing time, but if what she has achieved in the last two years since she started running is anything to go by, Gerda is set to fly. On top of that she is definitely not known for half-hearted efforts, which will make for an exhilarating race.
Build up
She describes her build up to the marathon as fun, but also challenging in many ways. "I had a two month build up that mostly consisted of short distance training and racing. I love running long distances and find speed training much more challenging. I have spent a lot of hours on the track doing fast workouts and focusing on getting my body recovered before the next session. I have also done more cross training than before and often swapped easy runs for cross training e.g. cycling, swimming, hiking, etc."
She's been lucky to spend most of her training in the French Alps where her partner, Duncan, owns a chalet. The Alpine mountains are by far her favourite place to train (in fact her favourite place to be), but as we all know the terrain is tough. "It is such an incredible place for fitness and so easy to step out the door and have a playground of mountains to explore. I decided to go back to sea level for two weeks before the race so it was in Dubai's heat where I rounded off the last block of training."
Guidance
NRC's National Manager Nick Bester has taken Gerda under his wing and has played an important part in her training. "Nick has played a huge role in my improvement as a runner and he guides me on a daily basis. I am thankful for this and continue to learn from the experience he has gained both from being an endurance athlete and working with other runners for many years," says Gerda.
But as we all know in training there are good days and bad days, and in the end it comes down to mental toughness and believing in your ability. "There were days that were much harder than others, such as tempo runs at high altitude and doing speed sessions on my own. But the hardest part of it all is now, trusting in the work I have done and believing that I can achieve my goals."
Though she is feeling great physically, tapering has been hard, to put it mildly. "Normally tapering for a marathon brings along a lot of emotions... Beware the tapering runner! I am super excited and also nervous. It is important to respect the marathon so nervousness is not necessarily such a bad thing."
Hopes and dreams
Gerda will definitely be aiming for a fast time; especially assuming that she is in better shape now than when she ran 77 minutes for a half marathon a few weeks ago. Her previous best marathon time was last year at the Dublin Marathon where she crossed the line in 2:51. "I am confident that I can improve on that. It will all come down to the day - how my body performs, weather conditions, etc."
Gerda, who will be running her fifth marathon, has her race plan worked out. Because the Valencia Marathon is a flat course, it makes a negative split achievable. "I will run within myself and try to enjoy the race as much as possible. If I feel good, I will pick the pace up after the halfway mark."
When it comes to pre-race rituals she does what works for her: fixing her race number to her vest the night before, painting her nails green and saying a last prayer. "I like waking up early before a race and having the same breakfast (coffee and Future Life) as every other day. I then listen to some music (Jeremy Loops and Matthew Mole are currently top of my playlist) while stretching. Then it's GO time!"
Support
Her partner Duncan will be out on the course supporting her and her sister Estie will also be running the marathon. "I am grateful that Duncan can be there as he always helps me to stay calm and focused. We will all travel and stay together. It helps a great deal to have loved ones around."
After the marathon Gerda is looking forward to taking it easy for a bit while travelling with Duncan and Estie to Barcelona to enjoy a week of Tapas and sight seeing."
Looking at what the ever-smiling 26-year old Gerda has achieved in such a short time, we have no doubt that Sunday will be one for her history books.
A helping hand and an open heart
They are some of the most talented little runners in the country, yet many can't afford a pair of running shoes to chase their dreams. But with the help of a running legend who knows what can happen when others uplift you, as well as a running club that believes in developing and supporting young runners, a group of youngsters from Pretoria are slowly making their mark on the South African running scene.
Around 10 children from the Nedbank Running Club (NRC) development programme in Pretoria delivered top-notch performances at the recent South African championships held at the Pilditch Stadium in Pretoria, with many placed in the top-five positions over various distances ranging from 80 m to 1 500 m. 'These children are a great example of the amazing young talent we have in South Africa,' says Enoch Skosana, their coach and NRC development officer in Pretoria.
Nedbank collaborated with Enoch to form the Nedbank Skosana development programme, and through coaching clinics at different schools in the Pretoria region Enoch identifies talent. Enoch, a running legend who represented South Africa in cross-country and road running, is very passionate about uplifting these youngsters. 'When I was young, I was given a chance and helped, so I now want to give back. I know what it can mean for someone's life,' says Enoch.
Finding talent
After obtaining permission from the school principal and the children's parents, the future athletes attend Enoch's weekly training as well as training camps in June and December. 'In June we focus on cross-country and in December we focus on base fitness,' says Enoch.
The children are dedicated and about 20 of them train from Enoch's house in Danville, Monday to Thursday. 'We focus more on speed work, but sometimes we run laps for endurance,' says Enoch. This gets done at a park in Danville while 100 m sprints get done on a quiet road in Danville. Enoch trains another around 30 children in the nearby Soshanguve.
Success stories
'Their hard work paid off at the recent South African championships, with many of them placed in the top five,' says Enoch. 'Some of them are so happy, they don't even want to stop training. It is exam time now, so we are not training. But many are begging the coach to run! I have to remind them to wait for the December holiday when we can train again. But they have to rest over Christmas and New Year.'
Some of the children come from less-privileged backgrounds and can't afford the basics such as running shoes. 'Many of them come to me and say their parents can't afford to buy them running shoes,' says Enoch. The NRC is an excellent example of how to develop and supports young talent. They supply all of the children with shoes, Future Life and all the other goodies they need.
Giving back
Enoch loves passing on his skills and can't imagine a life without coaching children. 'I want to give back to the community, I want to make a mark, and I want people to remember me for what I did for others,' says Enoch.
'The secret to success with children is patience. Many of them respect me because of my running background, and they try really hard. These children touch my heart and make me very happy,' say 43-year-old Enoch, who these days doesn't have too much time for his own running. But when he does tackle a marathon, he can still clock a time of around 2:35.
The next time some of these children get to test their speed before taking a break over Christmas will be at the Skosana Race on 9 December at the Correctional Services in Pretoria. Events include a street mile as well as a 5 km and 10 km. Enoch has no doubt that his little runners will make him – and most importantly themselves – very proud!
What Makes FUTURELIFE® HIGH PROTEIN Smart food™ Ideal for Exercise Recovery?
By: Angie Leach
Many people realise that they need to consume something after exercise, but there is often confusion as to what. A pure whey shake? A sports drink? Absolutely anything you can find in your fridge… Because you are starving! Exercise recovery nutrition is multifaceted and aims at returning your body to its pre-exercise state. This involves refuelling the body, repairing your muscles and rehydrating. Good exercise recovery will:
    Facilitate muscle gain as a result of the training
    Assist in increasing strength
    Allow you to train at a higher intensity
    Have a protective effect on the immune system
    Prevent dehydration
This article will explore the features of FUTURELIFE® HIGH PROTEIN Smart Food™ that make it excellent for recovery.
PROTEIN
Muscles develop tiny tears during exercise which can cause some of the pain you experience afterwards. Protein is essential for the repair of these muscles, which results in growth in both muscle strength and size1.
The amount of protein required for muscle repair is between 0.2 - 0.5g/kg or about 10 - 20g protein. The exact amount that you require for recovery will be influenced by various aspects such as exercise intensity and duration, but should not exceed 25g. This can be fulfilled in one sitting or partially as a snack followed by a meal within a couple of hours.
FUTURELIFE® HIGH PROTEIN Smart food™ provides 22.5g of protein per 75g serving, this would be further increased if the product is mixed with milk.
Another positive feature is the SmartProtein3D blend of proteins contained in FUTURELIFE® HIGH PROTEIN Smart food™ which consists of whey, soy and casein proteins. Studies have shown that such a blend is ideal for muscle recovery because it prolongs muscle protein synthesis. This occurs because each protein has a different digestion rate, leading to a prolonged delivery of amino acids. SmartProtein3D also has a more balanced amino acid profile with soy being higher in glutamine and arginine and whey providing more Branched Chain Amino Acids (BCAAs).
CARBOHYDRATES
Following exercise you also need carbs, more carbs than protein actually. Carbohydrates are needed for the replenishment of your glycogen (energy) stores in your muscles as well as your liver.
You require 0.8 - 1.2g of carbohydrates per kg bodyweight for optimal recovery this equates to roughly 50g - 80g Carbohydrates for the average person. Again, this can be taken in all at once as a meal or partially as a snack followed by a meal.
FUTURELIFE® HIGH PROTEIN Smart food™ provides 27g of high quality carbohydrates per 75g serving. Mixing with milk or yoghurt and adding fruit will further increase this amount. The options are endless, you could concoct a smoothie or even try these delicious HIGH PROTEIN Smart food™ crumpets with honey for something different. See http://futurelife.co.za/futurelife-high-protein-smart-food-crumpets/.
CONVENIENCE
Ideally you should start your exercise recovery as soon as possible after completing your exercise session, but definitely within 30-45 minutes. However, this can become difficult if you're on the run, headed to your next of many commitments. The beauty of FUTURELIFE® HIGH PROTEIN Smart food™ is that it is super convenient. If you have a shaker and some cool water or milk, you can mix it up, drink it down and be reassured that your muscles are on the road to recovery.
FUTURELIFE® HIGH PROTEIN SMART FOOD™ CONTAINS MODUCARE®
MODUCARE® is a patented blend of natural plant sterols and sterolins in a clinically proven ratio of 100:1. It works to modulate and restore balance of the immune system. You may wonder how this has anything to do with exercise recovery… Well, when we are exercising intensely our bodies undergo a period of immunosuppression following said exercise. Research has shown that a blend of plant sterols and sterolins like that found in MODUCARE® blunts this effect2 helping to keep you out of the doctor's office and on the road (or in the gym).
INFORMED-CHOICE
FUTURELIFE® HIGH PROTEIN Smart food™ is endorsed by Informed-Choice, a quality assurance program in the sports industry. The program certifies that a product that bears the Informed-Choice logo has been rigorously tested for banned substances in sport by the world class sports anti-doping lab, HFL Sport Science.
I hope that I have been able to assist you in picking out a safe and convenient recovery option with all the nutritional aspects that you need for sports recovery. Remember that rehydration is also very important. You can start by mixing FUTURELIFE® HIGH PROTEIN Smart food™ with a generous serving of fresh water or milk.
TWO OCEANS TRAIL RUN ENTRIES OPEN 1 DECEMBER
Get ready for some trail action!
Online entries for the 2018 Old Mutual Two Oceans Trail Runs will open on Friday, 1 December at:
•    10am for 12km entrants (limited to 500 entries), and
•    11am for 24km entrants (limited to 500 entries)
The 9th edition of this popular event is scheduled to take place on Friday, 30 March 2018.
DON'T FORGET:
•    Entries are limited to 1 000 runners in total and sell out within minutes, so update your profile and link your OMTOM and Webtickets profiles before 1 December to make for a speedy entry.
•    Due to updated safety rules, the minimum entry age for both events is 18.
CLICK HERE to read all about the entry process, or read on below.
Qualifying for #Comrades2018
Aspirant 2018 Comrades Marathon runners have been reminded to submit their qualifying details to the Comrades Marathon office by Wednesday, 2 May 2018.
Some of the notable qualifying events in the build-up to the 2018 Comrades Marathon include: Johnson Crane Marathon, Pick n Pay Marathon, Maritzburg Marathon, Om Die Dam Marathon, Two Oceans Marathon, Loskop Marathon, Irene Marathon, Wally Hayward Marathon, Vaal Marathon and Deloitte Marathon, among a host of other incredibly popular official qualifying races.
CMA Race Director, Rowyn James has sought to clarify the CMA's policy pertaining to submission of qualifying times. James says, "The CMA confirms that there is no change in its policy pertaining to the submission of qualifying times. Athletes have been requested to refer to the relevant paragraph under Rules & Information on its entry form and website."
Accordingly, the only requirement is that qualifying races must be ASA technically compliant.  Any official timing method whether handheld, electronic or chip-timed, including mat-to-mat times, will be accepted provided it is ASA technically compliant.
The qualifying race must be completed between 27 August 2017 and 2 May 2018 within the stipulated qualifying standards and the details thereof submitted to CMA no later than 2 May 2018.
International Comrades athletes are reminded that qualifying races outside the borders of South Africa must likewise be IAAF compliant.
Note: The 93rd Comrades Marathon will be a Down Run, starting at the Pietermaritzburg City Hall and finishing 12 hours later at the Moses Mabhida Stadium in Durban on Sunday, 10 June 2018.
No stopping the Green Dream Team
It might be only four weeks to Christmas, but it seems there is no slowing down the Green Dream Team as they delivered another weekend of fantastic performances countrywide.
Several athletes made podium two weeks in a row while the Junior Nedbank Running Club (NRC) athletes made the club proud. One such a Junior is Godwin Heyns, who finished first overall at the Knysna Waterfront 10km on 18 November and also claimed top Junior spot in a time of 31:33. This was only 10 days after he finished first overall and first Junior (30:47) at the Spur to Spur 10km Challenge in George.
His teammate and also a Junior athlete Louw-Anne Lourens, performed very similarly when she too took first Women's Open position as well as first Junior position (43:16) at the Knysna Waterfront 10km.
Another special mention goes to Veteran Davera Magson who regularly manages to not only finish in the Top 3 Women's Open positions, but also regularly claims top Veteran. Davera finished second overall and first Veteran at the Knysna Half Marathon in a time of 1:34. Barely two weeks later she followed this up with another fantastic performance at the Nelson Mandela Bay Uitenhage Carnival 10km, where she finished 4th lady overall and first Veteran in a time of 42:48. The ever-consistent Ntombesintu Mfunzi finished in second position at the same race in the Women's Open category. Her time was 37:35.