2017 Old Mutual Two Oceans #GoGreen (Click on the image to see the Video)
National Personalities and Stories
THE HEALING POWER OF RUNNING
She finished 3rd South African and 13th female at this year's Cape Town Marathon and has a running pedigree of note. But what is even more remarkable about Ntombesintu Mfunzi is how she has used running to deal with major emotional trauma in her life.
Ntombesintu's story is a story like no other; after being raped on her way to a running race, she got up the very next morning and lined up at the race, winning it for a 3rd consecutive time. And in doing so Ntombi (as she is known to friends) chose to be a victor and not a victim. It was the first step in choosing life and rising above what had happened to her. Through this whole journey running played a major part in her healing process, says Ntombi.
For the full article click here
Tsogo Sun #CaptureComrades
Tsogo Sun #CaptureComrades Give-away
Thanks to Tsogo Sun, four lucky Comrades Marathon runners and supporters have won a two-night hospitality experience at a luxury Tsogo Sun hotel in Cape Town, Johannesburg or Durban over the coming months.
The leading hotel, gaming and entertainment group owns 92 hotels in Africa, Seychelles and the Middle East, 14 gaming and entertainment destinations and over 250 conferencing and banqueting facilities.
The Tsogo Sun group has been the exclusive hotel and accommodation sponsor to the Comrades Marathon Association (CMA) since 2012. The CMA teamed up with Tsogo Sun in the build-up to the 2017 Comrades Marathon, with its #CaptureComrades competition that ran on social media.
The competition was targeted at runners and supporters who were encouraged to share their photographs depicting the true essence of the Comrades Marathon on the CMA's social media platforms. Facebook and Twitter garnered the biggest number of posts.
Tsogo Sun justly rewarded the four best posts with the sought-after complimentary vouchers at four of their signature hotels, The Sandton Sun, Southern Sun Elangeni & Maharani, Southern Sun The Cullinan and the Sunsquare Cape Town Hotel.
The winners in no particular order are:
-    Shahieda Thungo
-    Zinho Mokoena
-    Ian Macleod
-    Cassandra Barnes
CMA General Manager, Chris Fisher says, "We would like to thank Tsogo Sun for coming on board and celebrating the Comrades Marathon every year in true South African fashion. Our relationship with this world class hotel chain continues to grow. We are grateful for the immaculate way in which Tsogo Sun serves the needs of the Comrades Marathon community; of both our local and international athletes."
Fisher adds, "Tsogo Sun is definitely the CMA's home away from home!"
Tsogo Sun's Director of Operations (KZN) Mike Jackson says, "Sponsoring the Comrades Marathon has been a natural extension of the Tsogo Sun brand. It is indeed an honour to partner with The Ultimate Human Race."
STILL TIME TO ENTER JOBURG'S MOST BEAUTIFUL RACE
Johannesburg, South Africa - The first rumblings of thunder and a tinge of purple on the jacaranda trees are reminders that one of the most important events in Johannesburg is just around the corner – the SPAR Women's Challenge on Sunday October 8.
This year, the SPAR Women's 10km Challenge and 5km Fun Run have moved to a bigger and greener new venue, the Marks Park Sporting Club in Emmarentia. If you haven't entered yet, there is still time - If you miss that deadline, there is no need to despair – late entries will be accepted at registration from Thursday October 5 until just before the race on Sunday.
However, if you enter late, you will miss out on the free race t-shirt which will be presented to the first 16 000 pre-entries, so it's important to get that entry form in. Entries can also be submitted at certain sports shops and SPAR stores.
The new course is very pretty, as it twists and turns through the leafy suburbs of Emmarentia and Greenside, passing some beautiful homes, pretty gardens and well-known schools. Part of the race is a steady climb past the Parkview Golf Course, which celebrated its centenary last year. The race ends back at Marks Park.
The first five kilometres are relatively flat, with the second half being more challenging, but the trees lining the streets provide shelter from the sun and by the time the race is run, the jacarandas should be in full bloom – always a sight for jaded eyes.
The course for the 5km Fun Run sticks fairly closely to Marks Park an the adjoining Johannesburg Botanical Gardens, taking entrants past the beautiful Emmarentia Dam.
There are plenty of prizes on offer, including SPAR vouchers worth R15 000 and the trendy Afro-pop group Denim will have everyone tapping their toes and clicking their fingers as they provide the entertainment on the day.
So get those entry forms in and be part of Joburg most beautiful race on Sunday October 8.
For more Info click here
Entries officially closed for #Comrades2018
With 21,500 entries received in just 21 days, the Comrades Marathon Association (CMA) has officially closed the 2018 Comrades Marathon entry process.
CMA Race Director, Rowyn James says, "This applies to both online and manual entries. We have reached the cap of 21,500 and cannot accept any more entries. All entries received up until 16h30 at Comrades House today (Thursday, 21 September 2017) will still be accepted and are currently being processed, including those postal entries that are postmarked 21 September 2017 or earlier. However, all other entries received after this time will be rejected."  
James adds, "The fast pace at which our 2018 entries have been snapped up has really been phenomenal. Even with the increase in the entry cap this morning, the CMA has found it mandatory to close the entry process. The safety and well-being of our runners and the integrity of the event remains a top priority."
James has advised that this unprecedented demand for entry into the Comrades Marathon goes hand-in-hand with catering to our athletes' needs. He says, "In line with our Runners First Initiative, the CMA Board found it imperative to increase the entry cap from the original 20-thousand to 21,500."
James says the CMA's sole focus is the athlete and meeting the needs of our participants on Comrades race day.
James adds, "All roads lead to the Moses Mabhida Stadium come Sunday, 10 June 2018. We look forward to a fantastic day of road-running for all participants."
Please visit www.comrades.com for more information.
2017 Cape Gate Charity Run (click on the image for more information)
Nedbank Running Club SWD George had their Spring Time Trial with a fantastic attendance of over 100 - Click on the image below for more
A week of Girl Power
Another week and another set of great results from the Green Dream Team, who seem to just go from strength to strength as weeks pass.
Though the men from the Nedbank Running Club (NRC) were as speedy as always, this week has to be dedicated to the speedy women from the Nedbank Running Clubs countrywide. Some of the leading ladies even featured on podiums two days in a row, making the Green Dream Team as proud as can be.
Some of the female athletes who deserve mention include Obertina Kanyongo, Busisiwe Matiwane and Charmaine Cupido. Kanyongo finished first Master lady (1:41:44) at the Constantia Valley Grape Run Half Marathon after placing first (40:41) the previous day at the Goodwood Harriers 10km Challenge. Team mate Matiwane finished second overall and 1st Vet (62:59) in the 14km event at the Constantia Valley Grape Run, also only a day after she won the Veterans 10km race at the Goodwood Harriers. Cupido made it three in a row for the girls with her Grandmasters win in the 14km race at the Constantia Valley Grape Run, also only a day after she featured in 2nd Grandmaster position at the Goodwood race. You go girls!
At the Ethekwini Township to Township Marathon & Half Marathon the NRC women continued their power week with no less than three team prizes, while Loveness Madziva won the women's marathon in a time of 2:52:06.
And not to leave the men out, they certainly did not disappoint, with Derocious Makhobalo winning the ever-popular Irene Half Marathon in a time of 67:33. Alfred Mantsi claimed first prize in the Masters division with Sam Ndala finishing 2nd in the Grandmasters division.
Last mention has to go to another leading lady who is no stranger to podiums. Frances van Blerk clinched first position in the Grandmasters division finishing the Clover Irene Half Marathon in a time of 1:52:38.
NRC athletes claim tops spots on various podiums across SA
If there is a race, you can bet an athlete (or three) from the Nedbank Running Club (NRC) will be on the podium at that race! This weekend was no different with athletes from Nedbank Running Clubs across the country making sure they claimed their spots on podiums at various races near and far.
Some highlight races includes the FNB Joburg 10km CityRun, with a massive field of close to 11 000 finishers, and very strong competition amongst the top runners. The Green Dream Team did what they do best and no less than 7 athletes from the NRC placed amongst the top ten runners. Thabang Mosiako won the race in an excellent time of 29:52 while Rhundo Monderwag made sure she represents the NRC women by taking top spot on the podium with a speedy run of 36:41.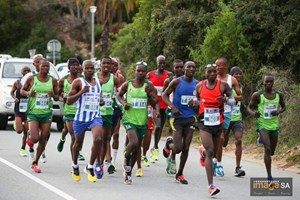 Another highlight was the gruelling Legends 68km Ultra marathon, Half Marathon & 10km held in East London. This race boasts over R1 million in prize money and attracted top runners countrywide. Brilliant performances came from Siphiwo Nicholas Ndlela (4:08:33) and Delani Mkhize (4:13:30) who clinched 2nd and 3rd positions with Emma Mathibela (5:23:14) and Monica Kativhu (5:24:31) crossing the line in 2nd and 3rd positions respectively. Another mention goes to Ntombesintu Mfunzi, who placed 4th in the Half Marathon finishing in a time of 1:22:08. This gutsy run comes only a week after Ntombesintu placed 13th overall and 3rd South African at the Cape Town Marathon on September 17th.
Another shout out goes to the evergreen Frances van Blerk who definitely knows what the podium looks like after she claimed 1st Grandmasters at the 10km Combat Run in Pretoria.
For more results click here
SPECTACULAR RUNNING BY NRC ATHLETES
Be it a major or smaller race, athletes from the Nedbank Running Clubs (NRC) countrywide dominated podiums across South Africa.
At the Sanlam Cape Town Marathon (SCTM), where several NRC athletes finished on the podium or amongst the Top Ten women or men. NRC's Ketema Bekele Negasa (ETH) clinched second position (2:11:06) in the marathon while Precious Mashele made the Green Dream Team proud by winning the 10km race in a time of 28:32.
In the women's marathon Irvette van Zyl crossed the line in 9th position (2:36:46) with Elisabet Kebede Arsedo (ETH) 12th in a time of 2:49:12, Ntombesintu Mfunzi (RSA) 13th in a time of 2:51:35, and South Africa's Comrades sweetheart Charné Bosman 15th in 2:55:22.
Another highlight was the Vaal City Marathon where the Green Dream Team dominated with six podium finishes in the Women's and Men's Half Marathon races! David Manja (1:07:27), Sibusiso Nzima (1:08:12) and Phillimon Mathiba (1:08:22) respectively took 1st, 2nd and 3rd while Mamorallo Tjoka (1:23:20) led the NRC women home followed by teammates Mapule Mokgotla (1:26:47) and Tebogo Masehla (1:29:15). What a show of Green.
Another race that deserves a special mention is the CAA Southern Regional Half Marathon Champs in Namibia where NRC's Joel Mmone won a hard fought men's contest in 1:03:04, to hold off compatriot and team mate Thabang Mosiako in a sprint finish over the 21.1km distance. Both athletes were, however, credited with the same time. In the women's race, Bulelwa Simae crossed the line in 8th position in a time of 1:25:59.  
For more results click here