2017 Mandela Day Marathon
Nedbank Running Club Domination at the 2017 Mandela Day Marathon
Nedbank Running Club Ethiopia's Tekletsion Tefera was the star of the day at the 6th edition of the Mandela Day Marathon that was held on Sunday 27 August in Pietermaritzburg.
Tekletsion Tefera, who finished second last year, went one better by securing victory in 2:28:31, with Lyno Muchena of Zimbabwe completing the undulating 42km course just five seconds off the pace. The first South African to cross the line was Sikhumbuzo Seme coming home in 2:29.32.
In the women's race, seven-time Soweto Marathon winner Mamorallo Tjoka of the Nedbank Running Club Lesotho sat on the shoulder of defending champion Selam Abere of Nedbank Running Club Ethiopia until the last km, before producing a fine kick to cut the tape in 2:48.49.
The 28 year-old Selam Abere was aiming for her third straight victory but was unlucky crossing the line in second place with 2:49.00.
The first South African woman to cross the line was the 2016 Comrades Marathon winner Charne Bosman, who placed fifth in 3:09.02.
"This was the toughest marathon I've ever run. The hills!" Bosman said.
"But I was able to hang in and felt quite strong in the last 10km, and I passed a few ladies, so I'm quite happy to have finished strong today." She told the press after the race
Results
42km - Men

 
 

1

Tekletsion Kassahun TEFERA 

2:28:31

Nedbank Running Club Ethiopia

2

Lyno MUCHENA 

2:28:36

Phantane Club

3

Kebede Aberra DINKE 

2:28:44

Nedbank Running Club Ethiopia

4

Ramolefi Motsieloa

2:29:17

Nedbank Running Club Lesotho

5

Sikhumbuzo SEME

2:29:32

KPMG athletics club

6

Melly KENNEDY

2:29:36

Kenya

7

Lutendo MAPOTO

2:30:31

PIETERSBURG ROAD RUNNERS

8

Tsotang MAINE

2:31:16

Nedbank Running Club Lesotho

9

Edward MOTHIBI

2:31:28

Nedbank Running Club AGN

10

Tarisai RUKADZA

2:31:37

Zimbabwe

42km - Women

 
 

1

Mamorallo TJOKA

2:49:00

Nedbank Running Club Lesotho

2

Selam Abere ALEBACHEW

2:49:02

Nedbank Running Club Ethiopia

3

Loveness MADZIVA

2:58:57

Nedbank Running Club Ethiopia 

4

Chelitu Bogale ASEFA

3:07:17

Nedbank Running Club Ethiopia 

5

Charne BOSMAN

3:09:02

Nedbank Running Club AGN

6

Kidist Fiseha TEDLA

3:10:41

Nedbank Running Club Ethiopia

7

Makhosazane MHLONGO

3:12:14

32 GI A.C

8

Samukeliso MOYO

3:14:36

Nedbank Running Club Zimbabwe 

9

Melanie VAN ROOYEN

3:14:41

Richardsbay

10

Catherine Skosana

3:18:40

Boxer

 
 
 
 

21km - Men

 
 

1

Jobo KHATOANE

1:05:20

Maxed Elite

2

David MANJA

1:05:20

Nedbank Running Club CNW

3

Joel MMONE

1:06:31

Nedbank Running Club CNW

4

Tebello RAMAKONGOANA

1:06:45

South Africa

5

Ntsindiso MPHAKATHI

1:07:12

Nedbank Running Club CGA

21km - Women

 
 

1

Betha CHIKANGA

1:18:29

MAXED

2

Rudo MHONDERWA

1:18:37

Nedbank Running Club Zimbabwe 

3

Rutendo NYAHORA

1:21:14

Nedbank Running Club Zimbabwe 

4

Janie GRUNDLING

1:22:02

 

5

Ntebaleng LETSELA

1:22:17

MAXED

 
 
 
 

10km - Men

 
 

1

Precious MASHELE

0:30:55

Nedbank Running Club CGA

2

Namakoe NKHASI

0:31:01

Nedbank Running Club Lesotho

3

Tabang MOSIAKO

0:31:12

Nedbank Running Club CNW

4

Kabelo Lesia

0:31:47

Nedbank Running Club Lesotho

5

Bonginkosi ZWANE

0:31:57

Boxer

10km - Women

 
 

1

Jenet MBHELE

0:37:22

Umzimkhulu Striders 

2

Malineo MAHLOKO

0:38:15

Sisonke

3

Liteboho MAKHATSEANA

0:38:21

Sisonke

4

Andronica MOKGOTLA

0:38:43

Nedbank Running Club CGA

5

Liziwe MABONA

0:39:02

Ampa Athhletics Club
Launch of 2018 Comrades Marathon
August 30, 2017  
'Asijiki – No Turning Back' will be the all-encompassing campaign theme of the 2018 Comrades Marathon, as unveiled by the Comrades Marathon Association (CMA) in Johannesburg today (Wednesday, 30 August 2017).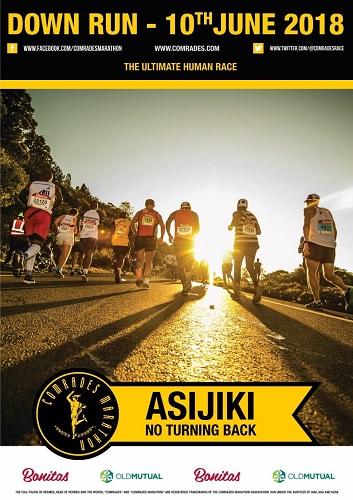 The annual media launch of the 93rd edition of The Ultimate Human Race attracted members of the media, road-running dignitaries, stakeholders, the nation's top runners, sporting personalities and 2017 Comrades Marathon Men's Champ, Bongmusa Mthembu.
CMA Chairperson, Sifiso Nzuza said, "We are pleased to unveil our campaign for next year's race, 'Asijiki – No Turning Back' which encapsulates the grit, perseverance and determination it takes to complete a Comrades Marathon.  It is a relevant and all-inclusive campaign slogan that is bound to unite Comrades Marathon runners in one magnificent running of The Ultimate Human Race."
The 93rd Comrades Marathon will be a Down Run on Sunday, 10 June 2018. The race starts at the Pietermaritzburg City Hall at 05h30 and ends 12 hours later at the iconic Moses Mabhida Stadium in Durban, covering a distance of approximately 90km. This will be the 46th Down Run in Comrades history.
The opening date for entries is 1 September 2017. The entry period closes on 30 November 2017 or as soon as the entry cap of 20,000 has been reached. Prospective entrants are encouraged to get their entries in early to avoid disappointment.
Entry fees for the 2018 Comrades Marathon are as follows:
•    Early Bird Entries    : R 460.00
•    Local Entries            : R 500.00
•    International           : R3300.00
Athletes from South Africa and the Rest of Africa will be eligible for the 'early bird' entry fee of R460 if their entry is received before 30 September 2017. The regular entry fee of R500 will kick in on 1 October 2017 until the entry process closes. Please note that athletes from the Rest of Africa will pay the same entry fee as South African runners.
The international entry fee is applicable to all entrants outside of the African continent.
Entry is free to all runners who have completed the Comrades Marathon 25 times or more.
Runners can enter as follows:
•    online via the Comrades Marathon website: www.comrades.com;
•    by posting their completed entry form with proof of payment to the CMA Office: P.O. Box 100621, Scottsville, 3209;
•    by handing in their completed entry form together with payment at Comrades House, 18 Connaught Road, Scottsville, Pietermaritzburg.  
Qualifying for the 2018 Comrades Marathon will be applicable from 27 August 2017 till 2 May 2018. Runners are advised that the 2017 Comrades Marathon will not be an automatic qualifier for next year's race. Instead, the qualifying criteria for next year's Comrades Marathon will be to complete a standard 42.2km marathon in under 5 hours.
The Substitution Process will open on 26 March and close on 25 April 2018.
The CMA also announced that three new charities have been chosen to be part of the Comrades Amabeadibeadi charity drive for the next three years. The Childhood Cancer Foundation SA (CHOC), Hillcrest Aids Centre Trust and Hospice South Africa will join the Community Chests of Pietermaritzburg and Durban, Wildlands Conservation Trust and World Vision SA as the beneficiary charities of the Comrades Marathon.
CMA Vice Chair, Cheryl Winn said, "We are delighted to welcome our new charities and we appeal to all Comrades entrants to select the Official Charity closest to their heart and commit to running for a cause greater than themselves.  Through the Amabeadibeadi Charity Drive, the CMA has created the opportunity to give back and improve the social and environmental landscape in South Africa. It is our intention that we benefit the communities in which we operate and add value to the sport of athletics."
CMA General Manager, Chris Fisher said, 'Next year's Down Run will certainly be a grand affair, finishing at Durban's iconic Moses Mabhida Stadium. We welcome all of our runners, supporters and stakeholders to share in the joy and excitement of Comrades race day on Sunday, 10 June 2018.'
CMA Race Director, Rowyn James says, 'We have exciting plans in place for next year's Down Run. With entries opening on 1 September, we urge our athletes to enter early and take advantage of our Early Bird Entry Fee, specifically for South African runners.'
National Personalities and Stories
A FORCE TO BE RECKONED WITH
She's only been running for three years and has improved from 56th position at her first Comrades Marathon to 4th position at this year's race. A couple of weeks ago she surprised everyone when she placed 2nd at a gruelling trail race in the French Alps. Meet Gerda Steyn, a sure force to be reckoned with in future.
If anyone would have told her four years ago that she would finish amongst the top ten ladies at the Comrades Marathon, and that she would be signed up as an elite athlete, Gerda would have burst out laughing. Because this is a girl who enjoyed sport at school, but never really excelled at it. In later years she jogged a couple of 10km runs with friends, but usually only because she wanted to shake off a hangover. Then two things happened, Gerda moved to Dubai, and she met Nick Bester, National Manager of the Nedbank Running Clubs, and so her amazing running journey started.
In the last couple of months the relatively unknown name of Gerda Steyn kept on popping up. Firstly, when she crossed the finish line in 4th position at this year's Comrades, not only surprising herself, but her coach and spectators alike. Then, a couple of weeks ago, she placed second at a very tough and demanding trail race at an altitude of 2700m in the French Alps. Not bad for someone who never ran.
Younger years
Gerda grew up on a farm and like many South Africans she watched the Comrades Marathon on TV with her family. "It wasn't as much the winners who inspired me the most, but rather the size of the field. I was convinced if all those thousands of South Africans could do it, I could too." And though Comrades fascinated her year after year, she never ran consistently or even joined a running club.
Moving to Dubai
As a qualified Quantity Surveyor, Gerda got the opportunity to work in Dubai. There she joined a running club, purely to make new friends and stay fit. "At first I couldn't keep up, but I had to run faster to keep up with the guy I liked," says Gerda. Shortly after she was persuaded to enter a marathon, and that's when she started realizing her talent. "I finished the marathon ahead of all my running friends and it was then that I knew I could do so much more."
A group of runners from Dubai entered the 2015 Comrades Marathon and being South African, Gerda was in a way obliged to enter too. "I had to learn how to run a long, long way in a short time, but I discovered that I have a much better endurance engine than I ever thought." She lined up for Comrades with a combination of every emotion possible, and finished in 08:19, placing 56th amongst the ladies.
Meeting the right people
Gerda met Nick Bester and Bruce Fordyce while asking for their autographs, just before she ran Comrades. Nick said if Gerda ever ran a sub-3-hour marathon she should give him a call. With only one marathon in her legs and most of her training done on a treadmill over the summer months in Dubai, a very determined Gerda lined up at the Nice Marathon, where she made the cut and clocked 02:59.
"I phoned Nick the next day and since then I became part of the Nedbank Running Club's Elite team. I ran the 2016 Two Oceans Marathon as a Nedbank athlete and felt like the tortoise amongst the hares, but now I realize that it is all part of the learning curve." Nick started coaching Gerda, which made a huge difference to her running. "My speed improved rapidly and I realized the importance of recovery."
The coached training paid off and at her second Comrades Marathon in 2016 she finished in 07:08, placing 14th. "I was pleased but thought that I should have run a better time as I was still fairly fresh at the finish. I knew that if I wanted to compete for the top spots I would need to make changes to my work life." So Gerda resigned from her job in Dubai to focus purely on running. "If I don't pursue my running goals now I would just regret it later in life," says Gerda.
Surprising everyone
Gerda had a tough build-up to Comrades 2017, having picked up a stress fracture in February. She spent 8 weeks without running, but tried to keep her fitness up with Aqua jogging and Spinning. "It was a very tough time to keep mentally strong. I had to believe in something that sounded impossible even to myself. The only long runs I did leading up to Comrades were two 30km and one 40km two weeks before the race. I was amazed to find that my fitness had not gone. In fact, my heart rate data indicated that I was in better shape than ever."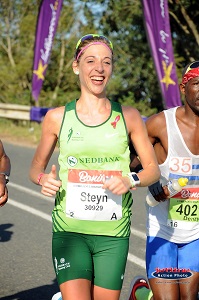 On Comrades day she felt relaxed, as there was no pressure to perform. After the halfway mark in Drummond she started overtaking a lot of runners, but it was only with 8km to go that she overtook Switzerland's Jasmin Nunige and hung on to fourth place. "I ended up running a negative split in a time of 06:45. In all honesty it was the first time I have ever seen my coach surprised with my performance. I was just as surprised as I would have taken another stress fracture for tenth place."
Training
Gerda spends more time cross-training than she spends running. "This is mostly because I am still trying to build up my cardiovascular system. Running puts a lot of strain on the body and cross-training helps prevent those dreaded injuries." Gerda is lucky enough to split her time between South Africa and the French Alps. With an Emirates airline pilot as a boyfriend they get to travel the world and train where she feels is best at the time.
When in South Africa she focuses more on road running and speed workouts whereas in France she uses the environment as her training playground. "Trail running in the French Alps is like nothing else. It is completely safe to go out at any time of day for as long as I want to. Trail running strengthens different muscles and causes less impact on my legs."
Gerda is known for her mental toughness and her tough tempo runs, which she runs at threshold pace for 60-90 minutes. "This is something that my coach was well-known for and it seems to have worked for him. Sessions like these are important both mentally and physically as it teaches you to keep going when it gets really hard. I do however make sure that I recover properly and often incorporate other forms of training such as cycling and steep mountain hiking."  
Gerda believes that Nick and her Nedbank sponsorship have helped shaped her into the runner she is today. "Nick has achieved so much in his own athletic career. He knows what it takes to be a winner. Being part of the Nedbank Green Dream Team has been the biggest asset to my career."
Future goals
Gerda, who will be lining up at the Valencia Marathon in November, is now working towards improving her 10km time and then her marathon personal best. She believes she can improve even more at the 2018 Comrades Marathon. Her biggest dream is to win Comrades. "I know where I currently am in my running career and I don't expect for this to become an overnight reality, but that is what I will work towards. I have other interim goals that will break the dream up in smaller portions and I know that these milestones will have to be reached first."
Gerda is clearly a young woman who loves running and life; she is rarely seen without a smile on her face when on the road. "There is sometimes a lot of agony behind that smile. I do however try to enjoy every moment and gain a lot of energy from crowd support. Running is so much more than one foot in front of the other. It changes you in so many ways and it becomes a part of who you are. It encourages you to be a better person, to look after your body and be the best you can possibly be. It pushes you to your very limits, but rewards you with a feeling of satisfaction that you can't find anywhere else. There is always something new to learn and someone new who inspires you. It strips you down to your core and brings out the fighter in you. Running is the purest form of life and I hope to be a runner until the day I die."
PAYING IT FORWARD
He grew up with not even the bare necessities, both his parents were unemployed and the family lived in a shack. The only thing he had going for him was his running talent, and coaches who cared enough to nurture this talent.
Today Siyaya Khoza, coach at the Nedbank Soweto Development Club, is giving back in a way he knows best – by helping other young runners fulfil their athletic dreams.
To the athletes from the Nedbank Soweto Development Club, Siyaya is so much more than just a coach. He is a father figure and mentor, and he understands exactly what difficulties some of them go through just to be able to run and compete, because he was in exactly the same position. "If it wasn't for my athletic ability and coaches who cared, I don't know where I would be today," says Siyaya, who today is giving back to the sport and helping others as he was helped.
Helping hand
An excellent example of Siyaya going over and above his duties as coach was when he welcomed a promising, but underprivileged athlete into his house in order to coach him properly full time. The 18-year-old Kutlwisiso Sidinile used to live with his unemployed mother in Bekkersdal, Westonaria, and joined Nedbank Running Club when he was in Grade 11. Siyaya became aware of Kutlwisiso's running talents and coached him telephonically, but it proved a challenge and after getting permission from his mother, Kutlwisiso moved in with Siyaya. "Within 5 weeks his running already improved drastically," says Siyaya.
Last year Kutlwisiso, a 1500m star, won an individual bronze medal at the South African Cross Country Championships. He was also crowned the South African Champion in 1500m running a blistering 3:52 to claim gold. The arrangement of living with Siyaya works like a dream. Not only is he in the best coaching hands, but he can also go to school in Rietvallei, South of Kagiso, where Siyaya has been a teacher for the last seven years.
Siyaya expects great things from Kutlwisiso and is confident that he will perform well at the upcoming SA Cross Country Champs in Potchefstroom.
In good hands
Siyaya comes with his own running pedigree. He has won 5 national titles (2 in Steeplechase and 3 in 1500m) while still at school, he has represented South Africa once, and still holds the fastest time (5.39) in Steeplechase for youth in the country.
"I grew up having nothing, and my only talent was my two good legs. I was fortunate enough to have teachers who cared for me right from primary school level up to high school. Through sport I was able to go to University and study a degree," says Siyaya, who obtained his Honours Degree in Education from the University of Johannesburg.
A coach named Charl Naude first recognised Siyaya's talent before introducing him to another great coach named Danie Lindeque. "Danie took me under his wing and became like a father to me, in a way a lot like I am to Kutlwisiso today. I want to give back to athletes today like it was given to me."
The Nedbank sponsored Kutlwisiso has a fantastic attitude towards the sport and is very positive. He is prepared to work hard to get to the top. He has a great drive to win. "I see a bit of myself in Kutlwisiso. I keep on saying to him: 'what you are going through now is exactly what I went through. It feels like I am reliving moments with you. But I want you to see yourself as a winner, a champion, and you will be one.'"
ALL EYES ON NEDBANK ATHLETES AT UPCOMING SA CROSS COUNTRY CHAMPS
A strong field of Nedbank runners are expected to perform well at the upcoming SA Cross Country Champs held next month in Potchefstroom.
All eyes will be on the Senior Men, especially after their recent superb performances at the Central Gauteng Cross Country Champs held at the Kagiso Sports Complex, as well as at the Slow Mag/Pirates 10km road race, says Siyaya Khoza, coach at the Nedbank Soweto Development Club.
The main highlight at the recent CGA Cross Country Champs was the Men's 10km race where 6 Nedbank athletes finished in the Top 10, taking the first 3 positions. David Manja led from the first lap to win overall, however, he could not claim the gold as it was the provincial championship and he hails from North West. Gold then went to his teammate, Precious Mashele and Silver to Ntsindiso Mphakathi.
Athletes to look out for at next month's SA Champs include David Manja, Precious Mashele and Ntsindiso Mphakathi.  "I am expecting a very good performance from especially David. He represents Nedbank, but will be wearing the North West colours. David decided to compete at the Central Gauteng Cross Country Champs just to prove how ready he is. He also realises there is more competition here than in his own province," says Siyaya.
Precious Mashele, who represented South Africa at the World Champs in Uganda, is another definite force to be reckoned with, says Siyaya. He finished third at the recent Slow Mag/Pirates 10km in a time of 29:24.
Another star athlete Siyaya is very excited about is junior Kutlwisiso Sidinile, who in the past was crowned South African Champion in 1500m running a blistering 3:52 to claim gold. "The plan for Kutlwisiso is to at least get a podium position at the SA Champs this year."
"Based on Saturday's performance I am expecting about 15 or our development athletes to form part of the final team that Central Gauteng will select," says Siyaya.
RESULTS
CENTRAL GAUTENG CROSS COUNTRY CHAMPS
10KM MEN
1. David Manja (NW)
2. Precious Mashele - 32:53
4. Ntsindiso Mphakathi - 33:20
6. Phillimon Mathiba - 33:54
7. Itumeleng Tshetlanyana - 34:09
9. Derocious Makhobalo - 34:28
10KM WOMEN
3. Andronica Mokgotla - 42:32
8KM JUNIOR MEN
4. Kutlwisiso Sidinile - 27:41
6. Thabo Masina - 28:27
6KM JUNIOR WOMEN
4. Liza Kellerman - 26:13
4KM MEN
8. Jacob Malefo - 3:20
RUTENDO ON THE PODIUM AT THE SPAR WOMEN'S PIETERMARITZBURG RACE TWO WEEKS AFTER THE MARATHON WORLD CHAMPIONSHIPS
Pietermaritzburg, South Africa - Kesa Molotsane (KPMG) virtually clinched the SPAR Grand Prix with a stunning win in the Pietermaritzburg SPAR Women's 10km Challenge on 20 August.
She finished in 34.21 minutes. Rutendo Nyahora (Nedbank) was second in 34.34 and Irvette van Zyl (Nedbank) was third in 34.37.
This is the first time the Pietermaritzburg SPAR race has formed part of the Grand Prix series, so the route was unknown to many of the runners.   It was a very hilly route, and the race was run on a chilly morning, with 4 500 runners taking part.
Van Zyl took the lead early on, followed closely by Lebogang Phalula, Nyahora and Molotsane. Van Zyl looked strong on the steep hills, but at about six kilometres, Molotsane made her move and caught up with her. Phalula dropped back, but the top three ran side by side.  Molotsane, who is known for her amazing 'kick', left the other two and crossed the finish line looking as if she could run another 10 kilometres.  The top three all earned bonus points for finishing inside the target time.
Phalula, who won the Pietermaritzburg race last year finished in 34.50 minutes.
"I love hills, and I really liked this route," said Molotsane, who left almost immediately after the race to join her South African teammates at the World Student Games in Taipei, where she will compete in the 5000 metres event.
"I had to get special permission to stay behind to run this race, but it was very important to me," she said.
Molotsane said her training for the track helped her to maintain speed on the road.
Nyahora, who ran the marathon in the World Athletics Championships in London two weeks ago, said that at four kilometres, she felt she had no strength left in her legs.
"But I just reminded myself that I wasn't running a marathon and it was only a few kilometres to go.  I tried to stay with Kesa, but she has such a strong kick.  I am very happy with my race," said Nyahora.
Van Zyl, who won the SPAR race in Pretoria two weeks ago, praised Molotsane and Nyahora.
"I tried my very best, but it wasn't good enough today," she said.
"Kesa was just too good.  She ran an amazing race, and Rutendo was also amazing, just two weeks after running a marathon.  I just didn't have the strength in my legs to stay ahead."
The final leg of the SPAR Challenge series takes place at Marks Park in Johannesburg on October 8.
SPAR WOMEN'S 10 KM CHALLENGE RESULTS
Results of the SPAR Women's 10km Challenge run at the Pietermaritzburg Oval on Sunday
Senior
1. Kesa Molotsane (KPMG) 34.21; 2 Rutendo Nyahora (Nedbank) 34.34; 3. Irvette van Zyl (Nedbank0 34.37; 4 Lebogang Phalula (Boxer) 34.50; 5. Bertha Chikanga (Maxed Elite) 34.58; 6. Maria Shai (Boxer) 35.02; 7. Glenrose Xaba (Boxer) 35.05; 8.. Nolene Conrad (KPMG) 35.11; 9. Nicole Louw (KPMG) 35.23; 10 Rudo Mhonderwa (Nedbank Zimbabwe)
Junior
1. Nicole Louw (KPMG) 35.23;  2. Shanley Koekemoer (KPMG) 37.27; 3. Lyndi Roelofse (Boxer) 37.44
35-39
1. Jane Grundling (Boxer) 37.22; 2. Makhosi Mhlongo (32 Gi0 37.41; 3. Fikile Mbuthuma (Nedbank) 39.02
40-49
1. Tanith Maxwell (Boxer) 37.56; 2. Janene Carey (Boxer) 39.55; 3. Delia Jay (Dolphin Coast Striders) 44.40
50-59
1. Judy Bird (KPMG) 39.54; 2. Grace de Oliveira (Boxer) 44.10; 3. Gail Babich (Savages Athletics Club) 46.47
60-69
1. Blanche Moila (Savages Athletics Club) 49.19; 2. Sonja Laxton (RAC) 50.34; 3. Jenny Taylor (Saints Athletics Club) 51.13
70 +
1. Gill Tregenna (Westville Athletics Club) 59.22
SPAR WOMEN'S JOBURG CHALLENGE HAS A NEW HOME
SPAR Grand Prix set for fitting finale at the Joburg Women's Challenge in October Johannesburg, South Africa
The SPAR Women's Joburg Challenge has a new home.  The 10km race and the 5km Fun Run have grown so large that they have moved from the Wanderers Club in Illovo to the more spacious Marks Park in Emmarentia.  The races start at 8am on Sunday October 8.
The 10km Challenge twists and turns through the leafy suburbs of Emmarentia and Greenside, passing some beautiful homes, pretty gardens and well-known schools.  Part of the race is a steady climb past the Parkview Golf Course, which celebrated its centenary last year. The race ends back at Marks Park.
"It's a very pretty course, going past some iconic landmarks, and along some beautiful avenues with big trees," said race ambassador and three-times winner of the SPAR Grand Prix Rene Kalmer.
"The first five kilometres is relatively flat, but there are a lot of twists and turns.  Then there is quite a stiff climb past the Parkview Golf Course, up to the eight kilometre mark, and then there are some undulations to the finish.  I think the race will be decided in the second half, which is quite challenging.
"It is going to be absolutely lovely in October, with the jacarandas in full bloom and lots of trees providing shade.  I think the social runners are really going to enjoy it," she said.
The 5km Fun Run also starts at Marks Park, taking the runners past the beautiful Emmarentia Dam and the Johannesburg Botanical Gardens.
 With October being Breast Cancer Awareness month, it is only fitting that the designated charity associated with the race is Reach for Recovery, a voluntary support group for women with breast cancer.  The partnership goes  many   years, and the women from Reach for Recovery have become an important part of the race, wearing their distinctive pink t-shirts and spreading the word that cancer is not necessarily a death sentence.
"This is the 26th SPAR race in Johannesburg, and we are very excited that it has grown so big that we have had to move to a new venue, " said SPAR South Rand Marketing Director Martin Webber.
"The race is one of our flagship sponsorships and we are pleased that it is the last race in the Grand Prix series, as this gives the race a competitive edge and attracts the top runners.
"But the SPAR races are not just about the top runners.  We are hoping for about 16 000 entries and the vast majority of those women will be taking part for the fun of it.  We know that many women get the running bug after taking part in a SPAR race, and we are so happy that we are making a contribution to their health and welfare," said Webber.
Gauteng Central Athletics (CGA) James Moloi agreed that many women, young and old, took up running or walking after taking part in a 10km race or a 5km Fun Run.
"These races have produced many of our top runners, and we are also delighted that so many women are taking part.  We wish them all a happy day on October 8 and hope that many of them will continue running or walking after this race," said Moloi.
"CGA salutes SPAR for what they do for the women of South Africa."
Entry forms for the race are available at selected SPAR stores which you can locate on www.entrytime.com where you can also enter on line.
Current Spar Woman's Grand Prix Standings - Top 10
| | | | |
| --- | --- | --- | --- |
| | SPAR GRAND PRIX 2017 | |   |
| POS. | OPEN CATEGORY | CLUB | TOT PTS |
| 1 | Kesa Molotsane | KPMG | 137 |
| 2 | Irvette van Zyl | Nedbank | 116 |
| 3 | Nolene Conrad | KPMG | 87 |
| 4 | Lebogang Phalula | Boxer | 84 |
| 5 | Glenrose Xaba | Boxer | 80 |
| 6 | Rutendo Nyahora | Nedbank | 68 |
| 7 | Rhudo Monderwa | Nedbank | 66 |
| 8 | Cornelia Joubert | Boxer | 61 |
| 9 | Mapaseka Makhanya | Olifantsfontein | 45 |
| 10 | Elizabet Arsedo | Nedbank | 32 |
Nedbank Running Club Gauteng North
Nedbank Running Club Western Province
For more infor click on the image below
ELB Road Challenge
For more infor click on the image below